Waking up early is not my forte, A and his friend drove up from Pevensy to mine for the night, they are going to Inverness tomorrow for Rockness so decided to stop at mine to break up the journey. Unfortunately they didnt time the journey quite right and arrived at quarter to six this morning, usually I wouldn't have minded but today was my only lie in this week.
I've been doing a lot of overtime at work, moneys tight and I can't seem to stop spending. I don't understand why I feel the need to buy so many things, but it makes me feel happy, actual happiness, and I suppose I keep doing it because it's happiness without the need to take tablets to falsely do so.
I kept on forgetting to take them for the past few days, so I've been on a complete downer, it's scary to see what I am really like without popping those little white pills every morning. I should be getting new ones soon, I have to go to the local psychiatric hospital for the new ones though, but I'm waiting for a letter through just yet, but it seems to be taking so long.
Today I took A and his friend to look around town, first timers in Aberdeen get the full tour, but as todays been a bit iffy, the tours been cut pretty short, and mostly indoors, we went to the beach, lovely and sandy, but the sun came out AFTER we got back to the car, sods law really. We went back to my place and have just been here since. Todays seeming so long and slow, but I think it's just down to being awake for so long.
A while back, me and M went to his mothers to stay, and he drove me around the surrounding villages, there are so many abandoned houses, and seeing them sort of makes me sad, somebodys home could turn to this,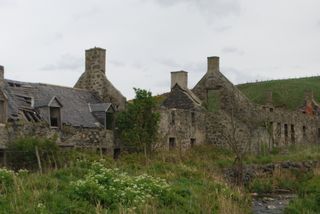 a sad, fenced off derelict building, its in such a beautiful spot, to the left out of view in the picture is a small secluded beach and you can slightly see in the bottom right hand corner a small brook, the sounds of it are so peaceful and soothing, it was a lovely place to be.
Behind me was a graveyard where we had gone to try and find someone M knew that died recently, we walked around the graveyard for a while, looking at the stones and reading the inscriptions, we then found a grave we hadn't expected, his best friends grave, he was only eighteen at the time the accident happened, and it hurt me so much to see him upset, he had attended the funeral but not the burial, so he didnt know where the grave was. It brought a tear to my eye, there were so many young people and children there, it seems so sad and the families that had to bury their own children.
We went to the old graveyard next to the new one, and the dates started from around the 1870's, most of the marbling had been chipped off of some, so the scripts were illegible. It upset me, that people were lying there, and once had a family to mourn them, but now their graves are unkempt and forgotten. So i have made a pact that next time I go north I will buy a huge bunch of flowers, bring some weed cutters and go put a flower on each grave and make them tidier, because even though I don't know these people, never have, and will probably never learn anything of them, everyone deserves to be looked after.
Have a lovely evening
Au revoir
x